Stain Removal
Back To Our Services
There is nothing worse than seeing your valuable furniture and carpets spoiled by a blotch of faded color. Stains come from a number of sources: wine, food, pets, pot plants, and water are just a few of the many sources which can cause a lasting stain. Different causes warrant various methods of removal, and our experts know how to choose the right tools and processes to remove any stain.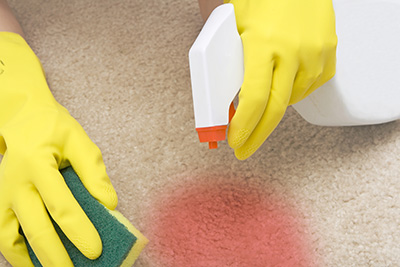 Stain removal takes patience and knowledge. A carpet will require different methodology to a couch, and more distinct surfaces such as tiles may require entirely different tools. Many years of experience combined with access to the best technology make us a carpet cleaning company you can trust.
Tiles and Other Surfaces
While carpets and such soft surfaces tend to stain more easily, tiles and other smooth areas can also be subject to unwanted spots and blotches. We are able to do tile cleaning including stain removal, and can as such assist you with the whole house, should you have multiple problematic areas. Any task is achievable, regardless of how big or small it is. If several rooms including the bathroom, bed rooms and living room have not seen professional cleaning in a while, we can handle all of them.
The Right Stain Removal Aids
Modern technology as well as eco-friendly products are in our cleaning arsenal. Our experts choose the right chemicals and cleaning tools to deal with a stain without risking damage to the surface it is on. Depending on how long the stain has been there for, how set it is, and where it came from, we will adapt and customize our approach. Every stain is a new challenge, but our extensive experience allows us to handle them efficiently and professionally.
Experts in Carpet Cleaning
The most common area for stains is carpets and rugs. Their place on the floor leave them exposed to the risk of things tipping over or being dropped, allowing gravity to spill the contents onto the carpet. While there is nothing we can do about human error and physics, we can do something about the look and health of your carpet. Not only are stains ugly to look at—they are also detrimental to the lifespan of your furniture. A carpet needs to be clean and in good condition in order to do its duty, and professional stain removal is a good way of ensuring this.
Services for Commercial Settings
Not only do we cater to homes, we also offer professional services for commercial clients. Offices and other businesses benefit from carpets and tiles in much the same way homes do—they add a personalized, pleasant touch to the surroundings. In these environments, however, the surfaces will usually receive a lot more wear than in their residential counterparts, making them more susceptible to stains. Our company offers commercial carpet and tile cleaning. We have got you covered no matter where the stain occurs.
Be it home or office, carpet or tile, we can complete any stain-related task for you. Your carpets are our priority, and we work hard to make sure that we are at the forefront of products and technology for this purpose.
Call us at Carpet Cleaning Dublin today with any enquiries you may have.